Here are some tips to follow if you experience a power outage:
CHECK THESE TWO ITEMS FIRST:
Check your fuse box or circuit breaker. This will determine if the problem is on Rock Energy lines or with your own electrical system. It might be as simple as a blown fuse or tripped circuit. You will be charged a fee if crews are dispatched and the problem turns out to be your responsibility.
Look at the area outside your house near the meter. Rock Energy maintains the electrical lines leading to your house and the meter itself. But if the weatherhead (usually found on the roof with wires entering the home - see graphic below), or your meter socket (box) is damaged or pulled away from the building, contact an electrician. These items are considered part of the house and are the member's responsibility.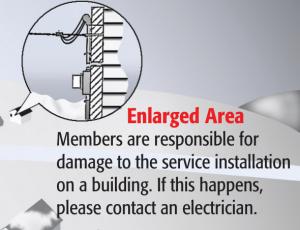 Rock Energy is notified of outages automatically through our metering system, but we encourage members to:
Sign up for outage text alerts.
Utilize our web site (www.Rock.coop) to view the Outage Map (click on Outage button at the top).
Use SmartHub to report an outage (preferred method) if there is an unusual situation that caused the outage (power lines down, there was a loud boom, etc). See SmartHub information below.
You can call Rock Energy at 866-752-4550 to report the outage; however, calling is not recommended, because if the outage is widespread, the phone lines will be very busy. 
When reporting an outage, please give your name and the address that is without power. It's also helpful to provide a cell phone number where you can be reached. Provide as much information as you can about the outage. What time did the power go out? Did the lights flicker. Did you hear a pop, or see any power lines down? Please DO NOT email us about an outage.