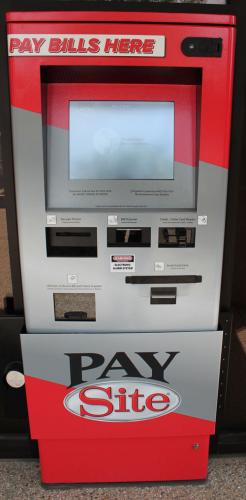 A PaySite kiosk is located just outside the main entrance of our South Beloit office, 15229 Willowbrook Road, where members have the convenience of paying their bills 24/7, even when our office is closed.
You will need to enter your account number or scan the bar code on your statement. Then just use the touch screen and follow the on-screen and spoken instructions. The automated system has both English and Spanish instructions.
In addition to making payments by cash, check, credit, or debit card, you can view your current balance and receive payment confirmation. Payments made at the kiosk will be posted to your account almost immediately.
There is no fee for making cash or check payments. But our payment processor charges a $3.95 convenience fee for credit and debit card payments. Rock Energy does not set this fee or receive any portion of it.
Please note that the kiosk does not give change, so the full amount of cash deposited will be posted to your account.